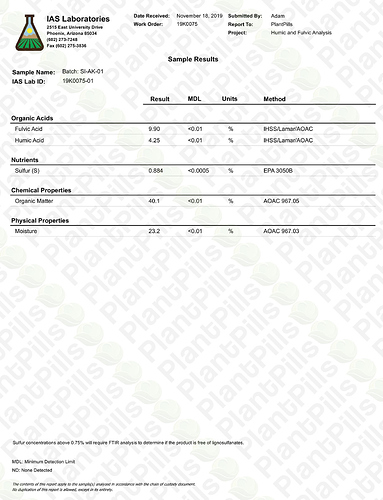 Natural variations in composition and its relative rarity have given rise to adulterated and counterfeit shilajit products
[68]
, and testing methods used to determine humic acid and fulvic acid levels in shilajit have proven unreliable
[69]
.
Due to these issues the Association of Official Analytical Chemists, AOAC International, developed a consensus-driven testing standard for verifying and establishing the contents of humic ores such as shilajit
[69]
.
Above is the third party laboratory AOAC test report for our current batch of PlantPills Gold Standard Shilajit Paste, batch number SI-AK-01.
This is dated as 18th November 2019, and in addition to validating authenticity, shows Fulvic Acid as 9.9%, Humic Acid as 4.25%, Sulfur as 0.884%, organic matter as 40.1% and Moisture as 23.2%.
This batch has a use-by date of November 2023.